Illustrator/Author ~ Graphic Designer ~ Artist ~ Mom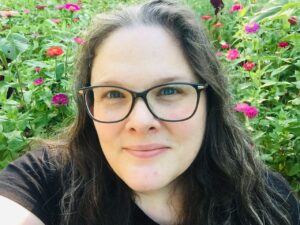 When I was young, I would flip over my (likely blank) school work and draw flowers with my crayons instead. I LOVE the smell of Crayola crayons.
My works are a combination of colored pencil, crayons and digital illustrating. To help improve my storytelling, I read tons of picture books, moderate on Julie Hedlund's 12x12 Picture Book Challenge forum as an "Elf", participate in local critique groups, and attend SCBWI functions when able. I love to visit the library and stack my arms with a ton of books. When the pandemic subsides, I'd love to facilitate writer's workshops for elementary school kids again.
The Good Fairy Merriweather is my spirit fairy, and Garfield is my spirit animal. Halloween is my favorite holiday. Every time I get to wear my home-made Maleficent costume (from the cartoon), it rains. So, I can control the weather! I love naps, coloring, watching movies with snacks & playing games with my family.
Favorite books, well, that's a whole other thing. I have separate wish lists for picture books, and grown-up books. If I just stuck with bears, my favorites would be BEAR CAME ALONG, BEAR AND CHICKEN, SOAKED, and MR. TANNER. Some of my favorite grown-up books are The THICKETY series, The DIVINERS series, ALICE IN ZOMBIELAND series, THE SHINING, IT, and pretty much anything by Joe Hill.
Catch up with me on facebook @CrazyColorThing
or (new for me) Twitter @CrazyColorThing
or (even newer for me) instagram @crazycolorthing
I have a Society6 shop @CrazyColorThing
Contact me by email if you like.
re13baby@hotmail.com
SCBWI Member since 2013